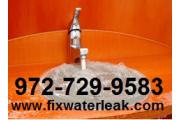 Edit
Fix Water Leak Dallas
6333 E Mockingbird Ln #141
, Dallas
, TX
75214
|
Directions
Hours:
Mon-Fri:
8:00 am - 7:00 pm
/
Sat, Sun:
9:00 am - 6:00 pm
/
About Fix Water Leak Dallas
At The Texas Plumbing Company, we extend quick, safe, and ensured service for all of your plumbing needs. We are a family-owned and operated business that has been serving the Houston area for over 13 Years.
We are licensed and insured--and we understand our work. Our professionals deliver very fast, dependable service and will arrive uniformed and badges. Our association can coordinate job and customer care; we have ability to follow-through on the everlasting details of new home plumbing services. Even when the pressure is on, we handle every task with precision and a smile.