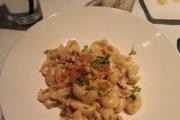 Hours:
Mon:
11:00 am - 2:30 pm
/
Mon, Tue-Fri:
5:30 pm - 10:00 pm
/
Sat, Sun:
5:30 pm - 10:30 pm
/
About Dakota's Steakhouse
Steakhouse.
This iconic and highly rated downtown Dallas restaurant is located a full story below ground. As the story goes, Dakota's Steakhouse had to be "lowered," as the street level of the property it occupies was formerly a Baptist Church and the terms of the deed forbade alcohol sales on the grounds. So Dakota's Steakhouse of Dallas went below ground, taking advantage of its unique surroundings with a sculpted waterfall and literally tons of Dakota marble.
Prime steaks, fresh seafood, fine wine, in an underground setting that's been in downtown Dallas for over 27 years.
Explore Nearby
1

Ross Ave And N Akerd St

2

2010 Flora Street (between Harwood and Olive)

3

1627 Pacific Ave
1

650 N Pearl St

2

1025 Elm St

3

400 N Olive St