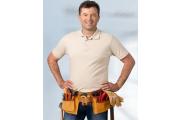 Hours:
Mon-Fri:
7:00 am - 6:00 pm
/
Sat, Sun:
9:00 am - 5:00 pm
/
About Argyle Plumbing
Do you live in the wild state of Texas and you're having problems with your plumbing? This is an issue that plagues many of our fellow citizens.
You might be on the hunt for a quick solution to this predicament. If you are looking for a company that puts you first, look no further. Argyle Plumbing is ready to rock. From water heater maintenance to septic tank repair, we will do whatever it takes to deliver complete customer contentment.